Answering Questions (Quora, Yahoo ) & Sponsorships
Quora links are marked as "nofollow" which means they don't pass any "link juice" to your site. However, adding links to answers on Quora is a great overall inbound strategy because you'll increase your authority, drive traffic to your site and raise brand awareness. Plus no-follow links can help build a well-rounded backlink portfolio.
While the direct SEO value is up for debate, links from question and answer style sites — such as Quora and Yahoo Answers — are certainly a good way to drive traffic to your site and build your authority in a niche.
They can also be a great way to identify trending topics in a niche.
If you notice a particular question is being asked consistently, there is a good chance that is because those posing the question have failed to find an answer in Google. Creating content on your own site that fills that information gap presents an opportunity for both bringing in search traffic and future link building.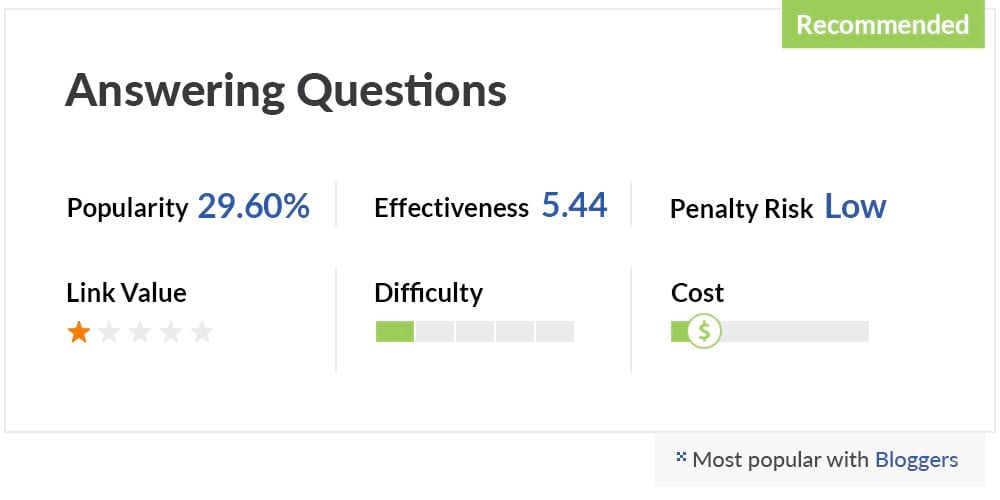 Sponsorships (charity, events etc)
Whether you're a world-renowned philanthropist — or a penny-pinching miser — you'll be donating like mad when you realize that your donation dollars can land you top-quality backlinks from authority sites.
Many charities and organisations will list their sponsors — often with a link back to the sponsor's site. By their nature, charities tend to be trusted and often have high domain authority, so these links may be beneficial for rankings.
While technically these are paid links, they would fall on the lower risk side of the link buying scale.
Another tactic which can be effective is to offer services in exchange for a write up on the charity's site. For example, if you are a photographer you could offer to go along and photograph an event for free, with the proviso being that the charity includes some of the images on their site (with link attribution).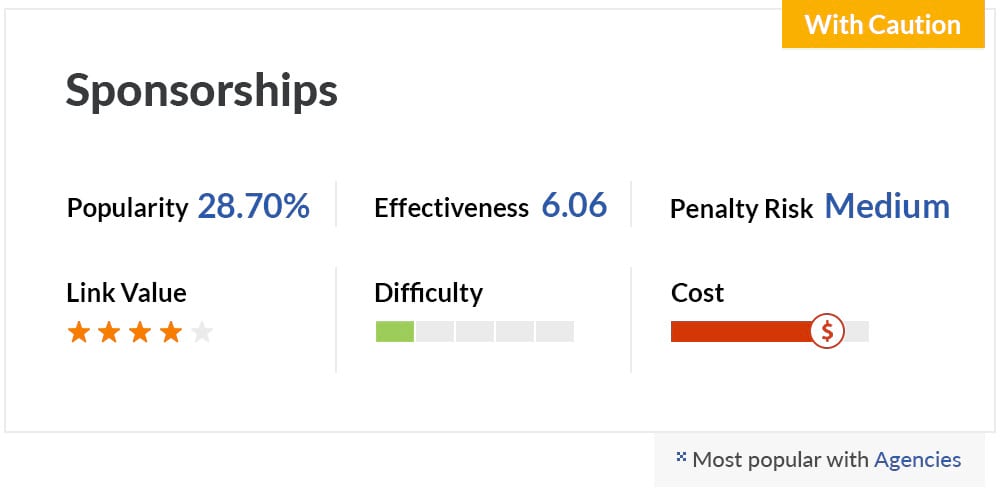 Sponsored Content
Getting reviews from bloggers and online content creators can make a huge difference in how successful a new product or company is. In addition to bringing direct traffic from the sites giving you links, incoming links from high-ranking websites, especially if they include keywords, can help your search engine rankings.
Many bloggers will be happy to write about your product or service in exchange for compensation; either monetary, or in the form of free samples, a license for your software etc.
To comply with Google's webmaster guidelines, any such write ups should be clearly marked as sponsored and links should have the nofollow attribute applied. Google has confirmed that they consider free samples as payment for links:
Buying or selling links that pass PageRank. This includes exchanging money for links, or posts that contain links; exchanging goods or services for links; or sending someone a "free" product in exchange for them writing about it and including a link
The choice of whether to comply with these guidelines is of course entirely yours (see below).
Other Paid Links
As buying backlinks is often the quickest way to acquire them, for lots of businesses it's the most appealing option, especially so if the extra revenue generated by good rankings more than covers the cost of buying the links needed to achieve them. The problem? Google clearly states that buying backlinks to improve your rankings breaches their guidelines.
Google has long waged war on paid links and any 'dofollow' link for which money has changed hands is against their webmaster guidelines. Get caught buying links and your site (and the linking site) could be penalised.
That being said, despite the risks, there continues to be a large market for both buying and selling text links for SEO purposes.
Particularly in vogue at the moment are paid guest post placements; including on large authority sites such as Forbes, The Huffington Post etc. Many of these leave a semi-obvious footprint (for example the same authors linking to the same sites from multiple publications) so be wary of the risks.
Advertise Robot is a Digital Marketing boutique aimed towards helping companies at all sizes utilize their Advertising budget better than ever before. We not only use every technique in the book... but we write some ourselves ! Our main advantage is utilizing Robots to do over 70% of the Marketing tasks that are repeated and redundant, giving our Human experts more time to dedicate to creativity... building you a Marketing Strategy that is not only effective but cost-efficient.
About us and this blog
We are a digital marketing company with a focus on helping our customers achieve great results across several key areas.
Request a free quote
We offer professional SEO services that help websites increase their organic search score drastically in order to compete for the highest rankings even when it comes to highly competitive keywords.
Subscribe to our newsletter!
During my years of doing dropshipping I've met countless people who wanted…