How to Build a Cross-sell Gallery that is 100% Compliant with eBay's Active Content
Serving 60,000 sellers from 150+ countries, you can imagine how many feature requests we get on a daily basis.
These vary from highly relevant / popular requests such as – "Automatically advertise my listings on Facebook" or "Develop integrations with other listing solutions" all the way to esoteric requests such as – "Why don't you develop a feature to allow me to easily copy listings from my eBay competitors with one click?"
We document all these feature requests, and our development road-map is very much aligned around customers' feedback.
The more a specific feature is requested, the higher it goes up the priority list, here's a sneak peak at a part of that looong list –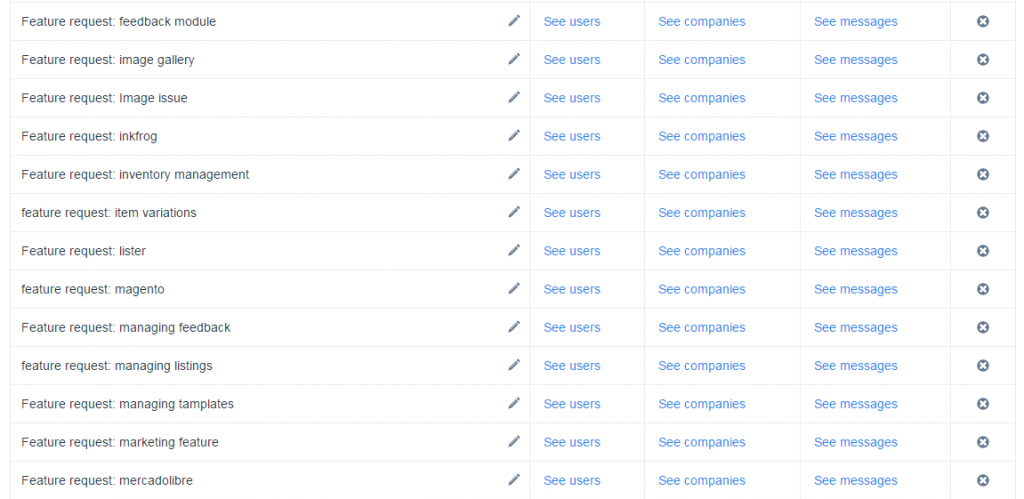 By prioritizing features according to the users' requests, we're able to ensure we solve the biggest needs and pains first.
Such was the case with introducing the mobile optimized listings and the ability to apply a template to multiple live listings with one-click.
Up until recently one of the most highly requested features was a cross-sell gallery, to showcase the sellers other items to increase visibility and sales –

And so the time came to build it for CrazyLister users.
Building the worlds first eBay active content free cross-sell gallery
The problem(s)
Though we knew we needed to build this feature for the users, there was a major obstacle –
eBay just announced that it's going to ban the use of active content in listings – which is how 100% of existing cross-sell galleries are built. Oops…
We had many more challenges on our plate such as – how to make sure that, regardless if the seller has 100 or 100,000 live eBay listings, the gallery will be applied fast to all of them? or 'How do we ensure that the items in the gallery refresh regularly, regardless of the fact that we can't use active content?
But then we figured – Elon Musk and Space X are building a company to expand humanity to Mars and beyond, why don't we try to build an active content free cross-sell gallery?

The team behind the feature
Today (April, 2017) CrazyLister's development team consists of 5 people in total – 3 developers, one user experience expert and one QA engineer.
The man chosen to lead the task was Michael Mendlway, who actually didn't have any photos online until this post! (Yes, he doesn't even have photos on his abandoned Facebook account!)
Ladies and gentleman, allow me to present… Michael!
Michael was assisted by the rest of the development team – Or, Semi, Hadar and Eden.
The development and technology
You'll have to take my word for it – the team literally worked day and night on this feature.
Or, the CTO, challenged the team to meet a seemingly impossible deadline for a beer & burger reward.
It's amazing what highly talented people will do for a burger…
I'll save you from the technical details behind building the cross-sell gallery and just say that we utilized the world's most popular cloud solution – AWS (Amazon web services).
The technology the team used to build this feature was so revolutionary that Amazon offered us to write a guest post for their blog, sharing how exactly we managed to build this.
If you are interested in understanding how it works, here's a link to the Amazon & CrazyLister blog post – From 0 to 100K in seconds: instant scale with AWS Lambda.
Confession #2
Ever since it's initial introduction in Feb 2017, the cross-sell gallery quickly became one of the most widely used features by CrazyLister users.
Thousands of eBay sellers added the gallery to millions of eBay listings.
I could have just introduced the cross-sell gallery, tell you about the benefits of adding it to your listings, and why it was one of the most highly anticipated and requested features we ever built. However, in this case, the feature is so easy to understand and implement, that it doesn't really need any further explanation.
The development team has done such an amazing job that this post is dedicated to them – as a thank you and a token of appreciation and admiration on behalf of the CrazyLister users and myself
Did I say the cross-sell gallery is 100% FREE for all eBay sellers?
Advertise Robot is a Digital Marketing boutique aimed towards helping companies at all sizes utilize their Advertising budget better than ever before. We not only use every technique in the book... but we write some ourselves ! Our main advantage is utilizing Robots to do over 70% of the Marketing tasks that are repeated and redundant, giving our Human experts more time to dedicate to creativity... building you a Marketing Strategy that is not only effective but cost-efficient.
active content, active content free, active content free cross-sell, active content free cross-sell gallery, build this feature, content free, content free cross-sell, content free cross-sell gallery, crazylister users, cross-sell gallery, development team, ebay listings, ebay sellers, feature, feature requests, free cross-sell, free cross-sell gallery, gallery, qa engineer, software engineer
About us and this blog
We are a digital marketing company with a focus on helping our customers achieve great results across several key areas.
Request a free quote
We offer professional SEO services that help websites increase their organic search score drastically in order to compete for the highest rankings even when it comes to highly competitive keywords.
Subscribe to our newsletter!
During my years of doing dropshipping I've met countless people who wanted…